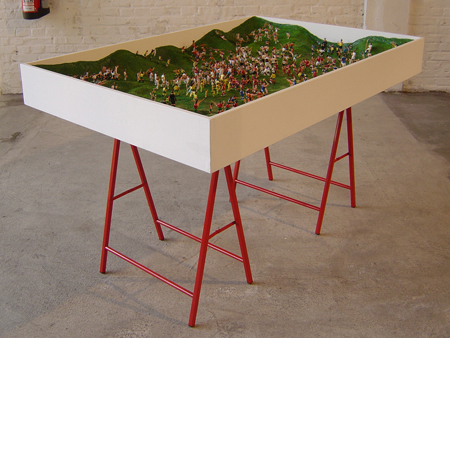 Adaption

2006

Exhibited during the World Cup 2006 in The Ball of Fame Exhibition, at The Vitra Museum, Berlin, Germany.

in Collaboration with Uli Westphal

Sculpture

Figurines, Enamel, Paper Mache, Wood

Adaptation depicts a monumental battle of the World Cup, 2006. Each team that participated in the World Cup was depicted with 11 figurines within the diorama, which was comparable to the miniature scenes museums display to reenact specific battles in history. The figurines were classic plastic toy figures of differing genres (cowboys, Indians, knights, soldiers, ninjas, firefighters, astronauts, etc.), which were painted over according to the color codes of the World Cup soccer teams. The weapons or utensils of the figurines became extensions of their 'bodies,' having been painted in a typical flesh tone.