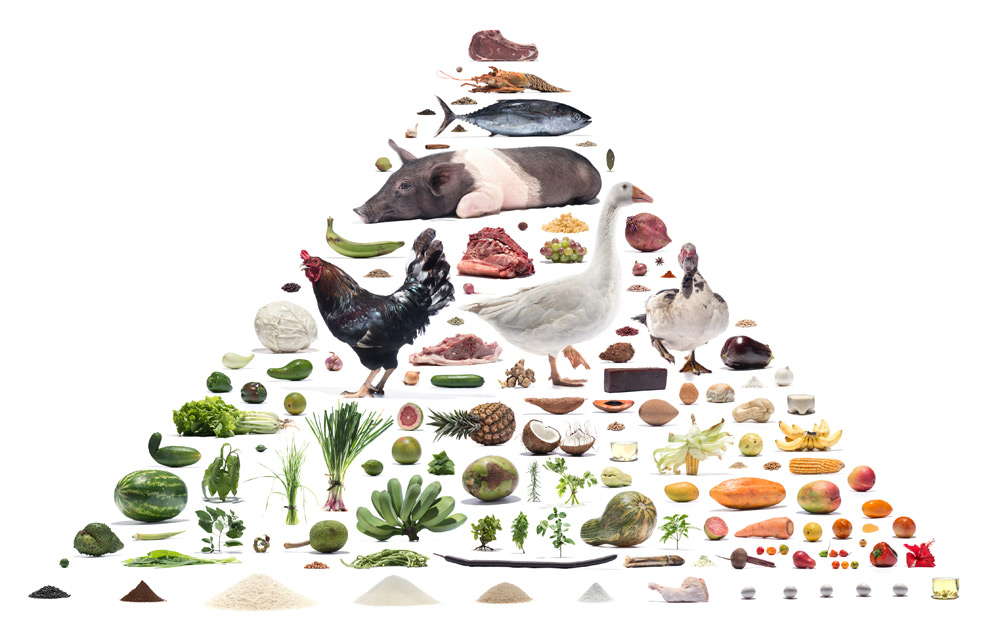 La Habana Comestible

(Edible Havana)
This work was produced for the Museum Organico Romarillo of the 12th Havana Biennial. It is a life size photographic documentation of all edible raw ingredients I could find within Romerillo, the city district of Havana where the exhibition took place. I sorted the images based on what locals told me about how accessible the individual ingredients are for ordinary Cubans.
The resulting classification system has the shape of a pyramid: Basic staple foods like rice, sugar and beans, that are provided as rations by the government, form the base of the pyramid. These are called the Quota Basica: per month every person in Havana is entitled to 10 ounces of beans, 7 pounds of rice, 3 pounds of refined sugar, 1 pound of raw sugar, 1/2 pound of vegetable oil, 4 ounces of cafetin (coffee streched with regular beans) 12 ounces of salt, 11 ounces of chicken and 5 eggs. Above this base there are all fruits, vegetables, herbs and nuts that grow wild on public land or that are sold on local markets. Above that are high value but accessible products such as pork or chicken. On the very top of the pyramid are prohibited and financially inaccessible goods like real coffee, beef, fish and lobster.
Beef is a scarce resource here and is reserved for the upper classes, tourists as well as sick and pregnant people. Butchering a cow without license is punished with up to 20 years in prison. Fish on the other hand is abundant in Cuba, being an island surrounded by water. But fish is not a main staple in Cuba. It is sold at prices that only tourists, high ranking officials and the upper class can afford. A large portion of the catch is exported. The geopolitics of this island also prevent ordinary Cubans from having access to motorized fishing vessels. Net fishing is prohibited. The only fishes that are consumed by the general public are those that are caught by line fishers and balseros (rafters) that head to the shores at nightfall.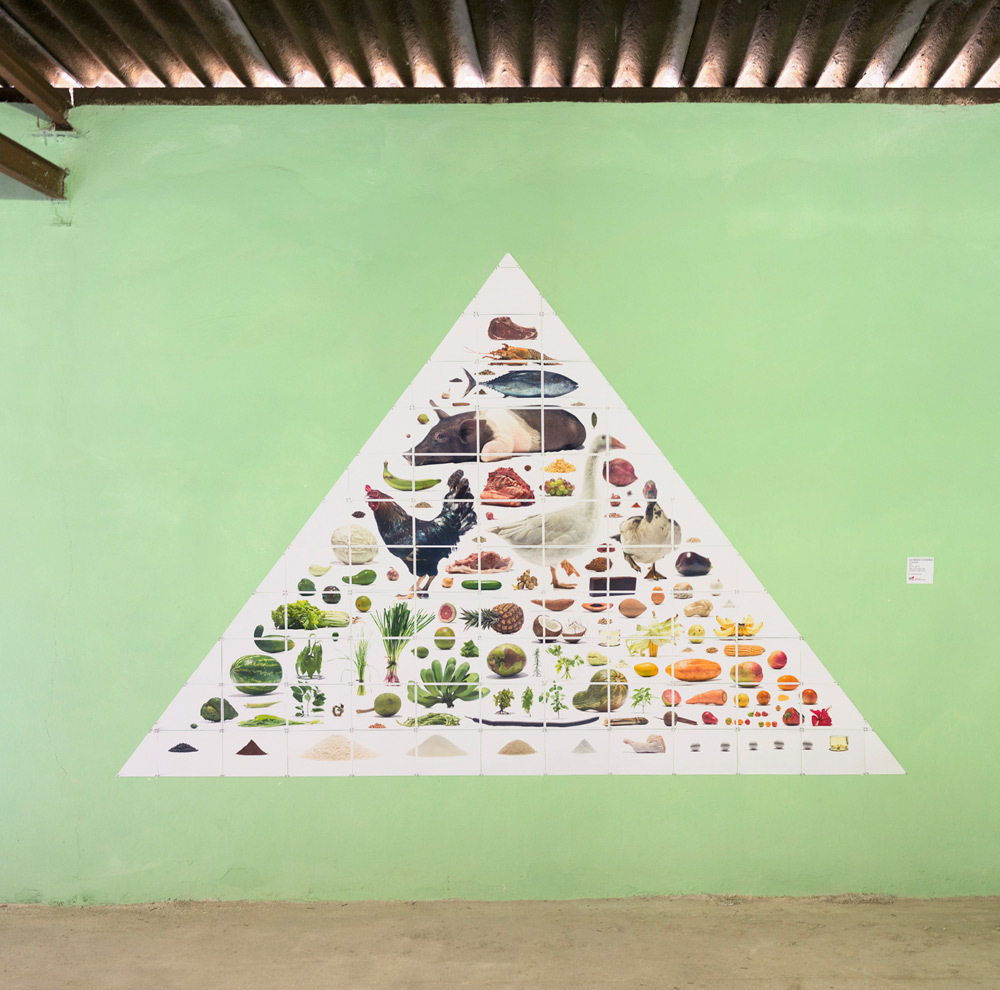 La Habana Comestible I | 2015 | 354 cm x 227 cm | inkjet print on paper, steel pins | Produced for the Museo Organico Romerillo as part of the 12th Havana Biennial. Installation view: At the Mercado los Marinos